The establishment of the 'pueblo or pueblo de indios' (municipality) invariably preceded the establishment of the 'parroquia' (parish). Municipalities were formed by associating the 'visitas' (chapel) served by a particular mission station, with the latter becoming the cabecera, or sent of the municipality. As the municipality grew and became more settled, it was eligible for parish status and when a priest (or friar) was available, the municipality was raised to a parish, and received a resident priest. The gobernadorcillo, who was the head of the pueblo, or town during the Spanish period, was both an executive and a judicial officer.
As a capitan municipal or town executive, he was in charge of the collection of all taxes. He also had paternalistic duties in relation to the townspeople. He saw to it that they did not live in idleness, that they cultivated the soil, raised gardens, bred livestock, and that they also attended religious services. The reward for the gobernadorcillos' services included a "salary" of two pesos a month, a share of 1 ½ of the tribute collection, the title of Don which he invariably retained throughout his life, and a place of importance during religious and civil ceremonies.
In some instances, a municipality may have existed for many years before it became a parish, but from the late eighteenth century on the two (municipality and parish) frequently emerged simultaneously or within a few years of one another. This is what happened in the case of Dumanjug, but instead of the establishment of the municipality first before the parish, the other way around happened. During the Spanish period, Dumanjug, together with Ronda and Alcantara were under the Barili Parish. Barili was a Spanish Pueblo and was one of the older towns in Cebu; in fact, it was a sub-capital of the Cebu Province until 1896.
On March 28, 1854, the St. Francis of Assisi Parish of Dumanjug was established through the instrument of an ecclesiastical mandate decreed by the Spanish Bishop of Cebu, Romualdo Gimeno, O. P. It used to be a small 'visita de los misioneros' (mission post), regularly attended to by a Filipino Clergy whose station was based in Barili. The patron saint is St. Francis of Assisi. Fr. Matias Cabrera, an Augustinian missionary, was appointed by Archbishop Gimeno as the first Parish priest. Other towns and cities that have St. Francis of Assisi as patron Saint are Naga City and Balamban Town.
Parish curates through the years are: Rev. Fr. Matias Cabrera (1854 – 1855), Rev. Fr. Doroteo Godinez (1855 – 1875), Rev. Fr. Hermenigildo Villa (1875 – 1894), Rev. Fr. Antonio Medalle (1894 – 1899), Rev. Fr. Vidal Causin (1899 – 1915), Rev. Fr. Alejandro "Padre Andoy" Espina (1915 – 1921), Rev. Fr. Emiliano Veloso (1921 – 1929), Rev. Fr. Jose Abad (1929 – 1949), Rev. Fr. Francisco Boltron (1949 – 1958), Rev. Fr. Benedicto Zafra (1958 – 1975), Rev. Fr. Alfeo Manalili (1975 – 1987), Rev. Fr. Eligio Pingkian (1987 – 1993), Rev. Fr. Celso M. Calvo (1993 – 1999), Rev. Fr. Vicente S. Dayao (1999 – 2008), Rev. Fr. Teogenes Herrera (2008 – Present).
In 1855, a year after Dumanjug ceased to become a visita of Barili and was established as a Parish, the Spaniards organized the first municipal government with Pedro Ricamora & Fr. Agustin Melgar as founding fathers. Juanico "Tan Juan" Jakosalem was the first Capitan Municipal or Gobernadorcillo as the town head was then called. The first Parish Priest was Fr. Matias Cabrera. With the following highly respected personalities as successors: Januario "Tan Wario" Cañete, Ysidro "Tatang Doro" Quirante, Bartolome "Tan Omeng" Zulueta, Agustin "Tan Usting" Pasculado, Herminegildo "Tan Gildo" Lañojan, Guillermo "Tan Imok or Guimo" Nemil, Mariano "Tan Amoy" Patlingrao, Domingo "Tan Minggo" Albino, Amadeo "Tan Along" Patlingrao, Pedro "Tan Idot or Deo or Adyong" Zozobrado, Zenon "Tan Cenon" Alpuerto, Juan "Tan Juan" Melgar, Lorenzo "Tan Ensoy" Corro, Alfonso "Tan Ponso" Jakosalem, and Januario "Tan Wario" Vegas.
At the onset of the rebellion against Spain, a revolutionary government was established on December 1898; Pedro Noel was appointed 'Presidente' by Gen. Arcadio Maxilom, the highest revolutionary leader in Cebu at that time.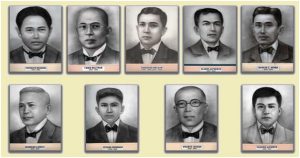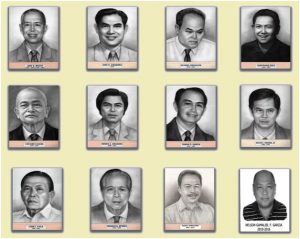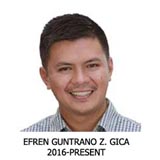 Simultaneously, the occupying Americans established a civil government on December 1, 1898 with Domingo Albino as President and whose term lasted up to 1901. The other "Presidentes" that followed were Fortunato Ricamora (1901-1903), Fabio Beltran (1904-1905), Diosdado Melgar (1906-1909), Eladio Alpuerto (1910-1912), Basilio Serna (1913-1919), Diosdado Melgar (1920 – 1922), Mariano Cañete (1922 – 1925),Eladio Alpuerto (1925 – 1926), Esteban Zozobrado (1926-1928), Vicente Lozada (1929-1934), and Pacifico Alpuerto (1934-1937).


During the Commonwealth period, under the American Regime (November 15, 1935 – July 4, 1946), Pacifico Alpuerto was the first elected Municipal Mayor (1935-1937). At the height of the Japanese occupation, leadership was vested on the so-called puppet mayors chosen by the Japanese. Civil Affairs Government under the Guerilla Administration was established in guerilla-controlled hinter lands of Dumanjug from April, 1944 to April, 1945 andJose S. Macoy, Sr. was considered as the President. Democratic leadership was re-established upon liberation by the winning of Jose Macoy as the first elected post-war Mayor.
The Philippine Commonwealth Government was restored after the liberation when World War II ended on April, 1945. The Philippines wasgranted independence on July 4, 1946 by the Americans, hence the start of the Philippine Republic.
The Mayors of the Municipality of Dumanjug were Jose S. Macoy, Sr. (1938 – April 10, 1942); Atty. Jose S. Amadora (elected in June, 1942 served until September, 1942); Silvano Jakosalem (appointed in October, 1943 – S eptember, 1944); Luciano Lucero (appointed in April, 1945– May, 1946); Jose S. Macoy, Sr. ( elected in June, 1946 – December, 1963); Guntrano Gica (January, 1964 – December, 1967); Atty. Romeo A. Amadora (January, 1968 – December, 1971); Tomas P. Garcia (January, 1972 – October, 1987); OIC Mayor – Salvador Saromines ( InterimGovernment after Martial Law) with Antonino "Tinong" Estrelloso, Sr. as OIC Vice Mayor (November, 1987 – March, 1988); Atty. Melecio "Boy" L. Amadora, Jr. (Died in office on May, 1990) (April, 1988 – May, 1990); Leon C. Avila (By Succession) (May, 1990 – December, 1991); Atty. Teodulo"Lolly" Q. Opsima ( January, 1992 – June, 2001); Cesar "Sarsi" A. Baricuatro (July, 2001 – June, 2010),Nelson Gamaliel F. Garcia ( July 2010 – 2016) and Efren Guntrano Z. Gica (July 2016 (Present).
______________________________________________________________________________
By: Ronaldo S. Tan (Sources: 'Accounting for Souls: Ecclesiastical Sources for the Study of Philippine DemographicHistory' by Michael Cullinane; the ' Historical Notes about the Parish' by Rev. Fr. Vicente S. Dayao in the 150th St. Francis de Assisi Parish's Anniversary Commemorative Album, 2004; and from invaluable series of interviews and consultations from Mrs. Cesaria Macoy-Lim, a true-bloodied historian of Dumanjug.)